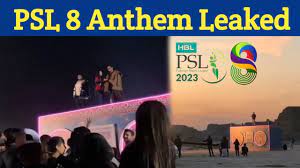 PSL 2023 Anthem Video Leaked Ahead of Official Launch
Rehearsal early videos for the highly-anticipated PSL 8 Anthem were leaked on social media, generating buzz and excitement among fans before the official release of the song. The leaks have raised anticipation for the official release and sparked discussions on social media platforms.
The anthem of the Pakistan Super League has caused much controversy, with fans eagerly awaiting its release. This year, the release was delayed due to changes in the administration of the Pakistan Cricket Board. Despite the anticipation, the cricket anthem has become a source of heated debate among fans. It remains to be seen if it will live up to the expectations of cricket enthusiasts.
Today some one make video of rehearsals of the official PSL anthem and leaked on social media platforms before the release of the song. Here is video you can watch it and tell us about in comment.
📢📢📢 A glimpse of #HBLPSL8 Anthem.

Are you excited for this year's PSL Anthem ❓❓❓#PSLMania | #HBLPSL | #SabSitarayHumaray pic.twitter.com/j5ZScKuQQq

— PSL Mania (@pslmania) February 9, 2023
The leaked videos of the upcoming PSL anthem have been making rounds on social media, showcasing famous artists Shae Gill, Asim Azhar, Abdullah Siddiqui, and Faris Shafi performing the song on stage with a captivated audience. The music video follows the style of the previous PSL anthems and promises to be a dynamic blend of different musical styles from the talented artists involved. A snippet of Faris Shafi's rap performance in the video has also generated buzz among fans, indicating that the upcoming anthem will be a unique and electrifying experience.
PSL now become a sports event in Pakistan and fans are very serious regarding PSL trophy and anthem. Fans are criticising PCB officials on leak video. Remember that the PSL 7 anthem was also leaked on social media last year before the official release.