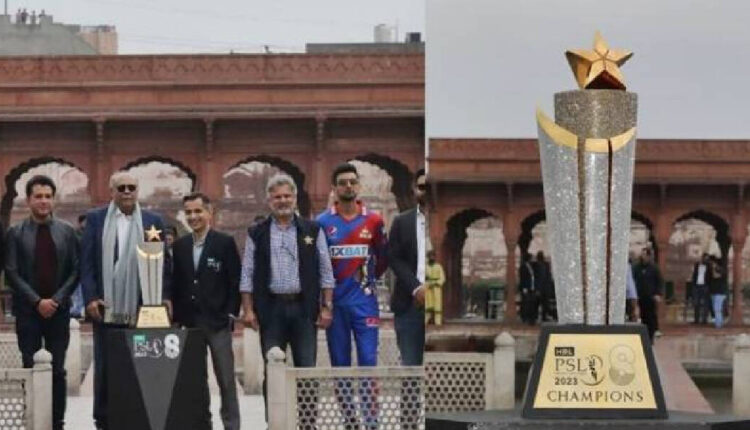 HBL PSL 8 New Trophy unveiled in Lahore designed with 24-karat Supernova
The Pakistan Super League's sixth edition trophy was unveiled in Lahore. The trophy was created with 24-karat gold and was revealed at the historic Shalimar Gardens. The Chairman of the PCB Management Committee, Najam Sethi, unveiled the trophy. Representatives of the PCB and franchisees also participated in the unveiling ceremony.
It is clear that the Pakistan Super League (PSL) will commence in Multan on the 13th of February, while the final match will be held on the 19th of March. On the other hand, the Pakistan Cricket Board (PCB) has announced the names of the commentators and presenters for PSL 8, with former PCB chairman Ramiz Raja not included.
According to current announcements from the PCB, the panel for the upcoming edition of the Pakistan Super League (PSL) will consist of 15 commentators and two presenters during the 34 matches. This panel includes Alan Wilkins, Bazid Khan, Dean Jones, Darren Gough, Dominic Cork, Mark Butcher, Nick Knight, Tania Mir, Shoaib Akhtar, Saeed Anwar, Urooj Mumtaz, Warne Fowler, Waqar Younis, and Yasir Shah.
PSL Season 8 Trophy:
The trophy stands at a towering height of 22 inches and is plated in 24-karat gold, symbolizing the prestige and value of the PSL. The trophy is embellished with intricate patterns and logos of the participating teams, representing the diversity of the league. The trophy is not just a symbol of victory, but it represents the hard work, dedication, and passion of the players who have dedicated their lives to the sport of cricket.
Winning the PSL 8 trophy is a dream come true for any player, as it symbolizes their achievements and contributions to the sport. The PSL trophy is not just a symbol of victory, but it represents the journey of the players who have overcome obstacles and challenges to reach the pinnacle of their careers. The PSL 8 trophy is a testament to the passion and energy of the players, and it is sure to inspire the next generation of cricket players to strive for greatness.