Hazara Girls Football Academy showered with rose petals after famous win
KARACHI: It was more than just a goal for Zohra Nasir's team when she kicked the ball into the net during a Group A match between Hazara Girls Football Academy and Gilgit City on Tuesday.
That goal did not only take Hazara Girls Football Academy to the quarter-finals on their maiden appearance in the National Women's Football Championship but it also changed everything for these girls who're based in Karachi's Manghopir district.
Turning bullies into cheerleaders
Sharing how she felt after the strike, the star player, Zoya Nasir, said: "My coach had told me that this match can turn my bullies into cheerleaders, and that's exactly what is happening with all of us.  We are very proud of our achievement. I hope that after seeing us getting success, other parents will also be encouraged to send their daughters to participate in football."
It was just last week when the same team was trounced by a much more experienced team WAPDA 17-0 but everything changed for these girls a week later.
On their arrival back home after the memorable win against Gilgit, the players received a warm welcome, with rose petals showered over them by the same people who taunted the team earlier.
Read more: PFF's first female secretary-general not to get her contract renewed
That's how one goal changed everything for these girls.
The new beginnings
The magical ending of Hazara Girls Football Academy's game against Gilgit was actually a new beginning for the team. It actually brought a ray of hope for the young footballers who don't have any facilities but their passion for the game remain undented.
Back in Manghopir, these girls practice on a solid ground of a local school's compound. They don't have a grassy or dusty pitch to get themselves trained, yet they are fully energetic on the field.
The club was founded by Ali Dad Changezi who is also the head coach of the team.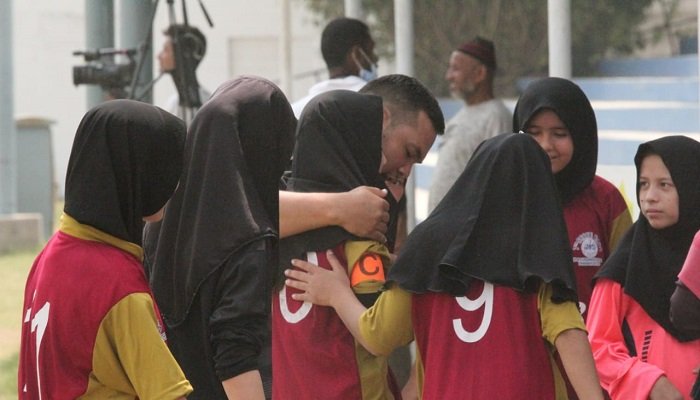 In an exclusive interview with Geo, Ali Dad shared the challenges he faced in creating this team after he was taken aback by the question his daughter asked.
"When I'll grow up, will you let me play any sports as other boys play?" Ali Dad recalled the question of his 9-year-old daughter Farwa.
"There was another incident when I was training the boy's team in school. I saw girls sitting on a corner discussing how they're less privileged because they can't have the same freedom which boys have," he recalled.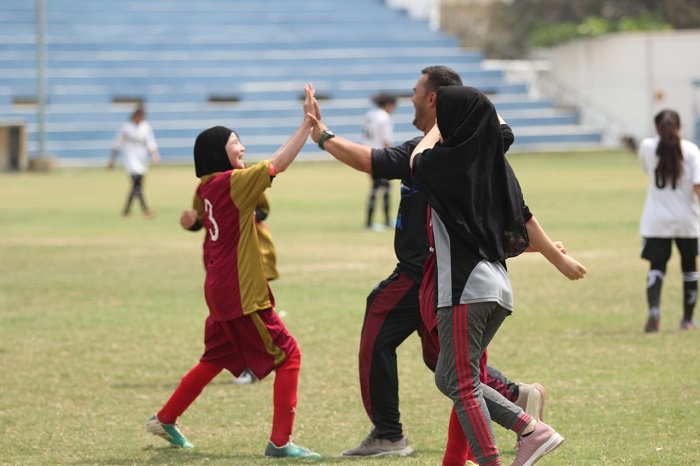 These two incidents encouraged Ali Dad to start a football team for girls. Initially, he got the team named after his daughter, but later he decided to make it a representation of the community and named Hazara Girls Football Academy.
However, it wasn't an easy task for him. Even Ali Dad's own mother and wife didn't like the idea.
But Ali Dad convinced everyone.
'Women's participation in sports extremely important'
"Women's participation in sports is very important. I am a strong believer that women should be allowed to participate in sports and display their talent. These girls can also be sports champions like the men's teams," he said.
He revealed that when some of the parents were reluctant to send their daughters for practice, he offered them various positions in the club so that they watch out for their girls and see how the sport has helped in regaining self-confidence.
"One of the player's brother is my assistant in the team, another player's mother is secretary of the club. Having them along with me is helpful and has supported me in convincing other families," he said.
Zoha Nasir, who scored the dream goal for the team, told Geo that she had to fight with her parents to achieve this dream.
Raed more: National Women Football Championship: Group B matches suspended after player tests positive for coronavirus
She recalled how she was restricted yet she managed to come and play.
Chasing dreams and much more
"If you can't chase your dreams then you'll always be sitting at home, that's not how life should be," said the 13-year-old footballer with confidence.
Nasir mentioned that when her side was beaten by WAPDA, everyone was taunting them but it didn't discourage her, instead it motivated her to push her limits further.
Meanwhile, Changezi recalled how one of the girls was given an ultimatum by her parents that if she can't win this time, there will be a complete ban on her for playing football.
"Her father was questioning the purpose of sending her to play if she couldn't win. I had to convince them that it is not always about winning, it is about challenging and improving your skills," he said.
'We want to play for Pakistan'
The side is captained by 14-year-old Fizza Batool, who is as ambitious as any other player or official of the club.
Batool told Geo that while her parents were supportive, she wants the same for all the girls.
"I want to tell all the parents that they must allow their daughters to participate in sports, it can change a life," she said.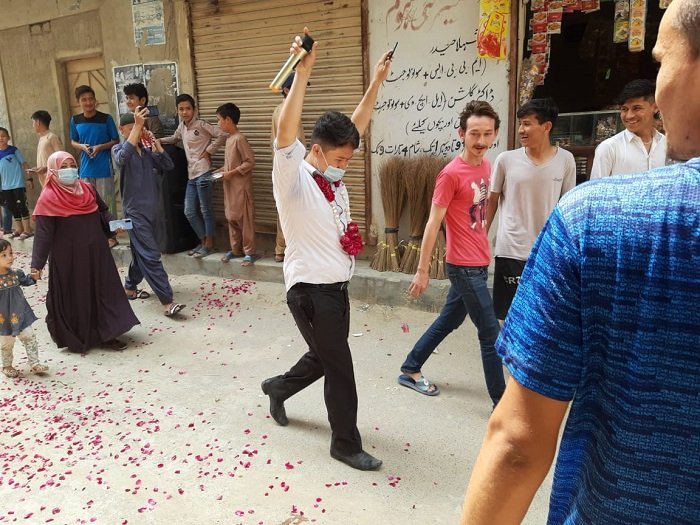 "We all want to play for Pakistan," she said while sharing her aim.
We want to become an exemplary team for the community, now when we have attached the "fairytale moment", the team members shared. 
"I am sure that after seeing the team being encouraged by everyone, a lot of parents will be encouraged to send their daughters for sports," said Attaullah Changezi who's the manager of the side.
"We used to give examples of Nargis Hazara and Kalsoom Hazara in our community to convince players, now we've more examples like Fizza and Zohra."
"If we start treating these girls as our role models, it will surely motivate others to become like them. These girls have taken the first step in this long journey and I am confident that many will join this caravan to support women's empowerment," concluded Attaullah.
(function (d, s, id) {
var js, fjs = d.getElementsByTagName(s)[0];
if (d.getElementById(id)) return;
js = d.createElement(s);
js.id = id;
js.src = "http://connect.facebook.net/en_US/sdk.js#xfbml=1&version=v2.11&appId=643971302475718";
fjs.parentNode.insertBefore(js, fjs);
}(document, 'script', 'facebook-jssdk'));